Best
PPSh-41

loadout in Warzone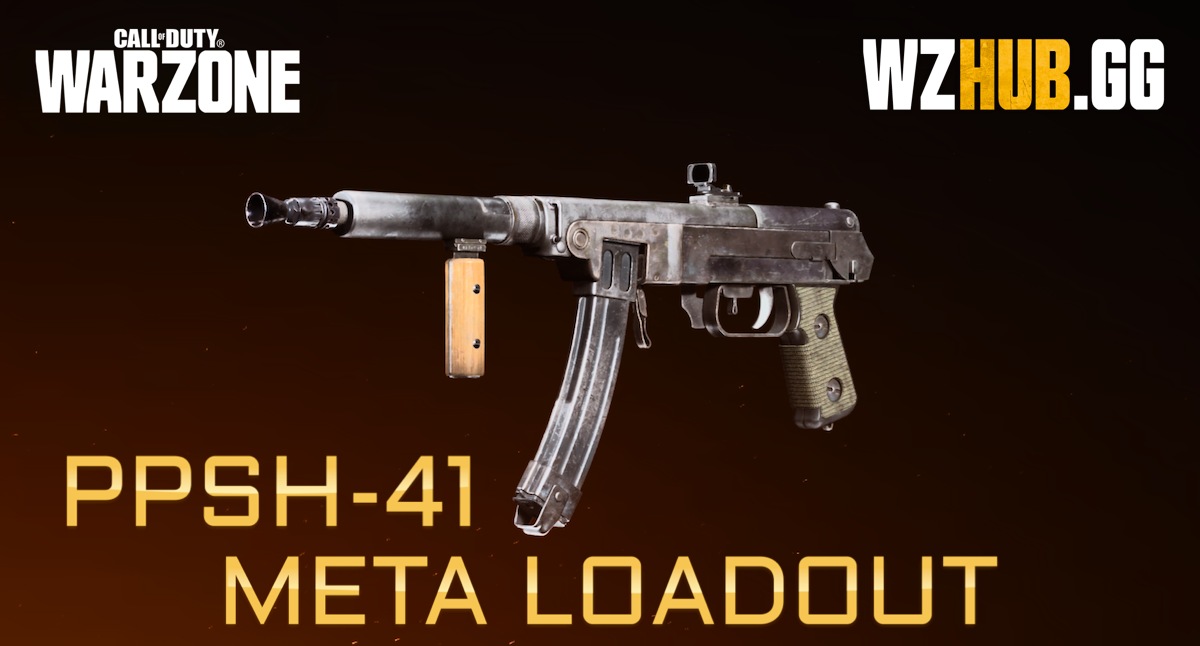 | | |
| --- | --- |
| Muzzle | Recoil Booster |
| Barrel | Kovalevskaya 230mm B03P |
| Optic | Slate Reflector |
| Stock | Removed Stock |
| Underbarrel | Mark VI Skeletal |
| Magazine | 8mm Nambu 64 Round Mags |
| Ammunition | Subsonic |
| Rear Grip | Pine Tar Grip |
| Perk1 | Tight Grip |
| Perk2 | Quick |
Earlier in Warzone there was already one version of PPSh-41, it was added together with the integration of Call of Duty Black Ops: Cold War. It was the 60s-80s version.
However, along with the integration of Call of Duty: Vanguard, another version of this famous weapon was added, which is a version from World War II. The main difference is that the Vanguard version of the PPSh-41 could have up to 10 attachments.
This made it possible to make uber cool hip fire weapon that wipe out enemies, and in one season the PPSh-41 was already the META. However, after several patches this was fixed and it no longer fell into the META category.
How to unlock PPSH-41 in Warzone & Vanguard
PPSh-41 is available to all players, players do not need to unlock it.
Why is unique about it?
When the PPSh-41 enters the META category, its main feature is its incredible accuracy when shooting from the hip. Players practically don't have to aim, and the rate of fire is amazing!
What are the alternatives?
A current list of alternatives to PPSH-41:
Armaguerra (still one the best SMG right now)
H4 Blixen (nerfed in the latest patch, but still viable)
What maps to use it on?
The PPSH-41 is ideal for small maps, like Rebirth and Fortune's Keep. On these maps this weapon is simply the King!
What weapon to pair with PPSH-41?
Paired with the PPSh-41 are Assault Rifles such as KG M40, Cooper Carbine, Vargo 52, Automaton - this is if you play on Caldera.
If you play on Rebirth or Fortune's Keep you can also use sniper or tactical rifles such as KAR98 (MW19), Kar.98k (Vanguard) or any other rifle you like.
What perks and equipment should I choose for my PPSH-41?
Since the PPSh-41 is a short-range weapon only, the following perks and equipment should be selected:
Seprentine
Ghost or Overkill or Restock
Amped
The best equipment to use would be:
Snapshot or Stun grenades
Knife or Semtex